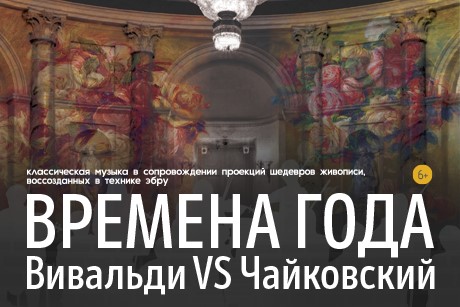 Duration:

01:40

Intermission:

1
Each guest from 0 years old must buy a ticket.
At all events in the Hermitage Theater there is a free seating.
Tickets WITHOUT SERVICE CHARGE!
Celebratory concert by March 8 - "Vivaldi vs. Chaikovsky". Baroque vs. Romanticism.     The project music in the dark has long been firmly established. We went even further and suggest listening to the classics surrounded by paintings! Contrary to expectations, projections can be seen not only on the stage, but also on the walls of the Hermitage Theater. As Tchaikovsky wrote his Seasons, based more on feelings from each month than from weather conditions, so the pictures will fit the sensations of each composition.     Sonnets, the authorship of which is attributed to the composer himself, were attached to each work of the Vivaldi cycle in the original version. We turned words into paintings, complementing beautiful music with equally beautiful visuals. Baroque has never been so romantic as it will be during this concert! Immerse yourself in the atmosphere of the holiday on the most feminine spring day.     The first branch - "The Seasons" A. Vivaldi   The second branch - "Seasons" by P. I. Tchaikovsky     Olga Kaurova, artist, master of technology Ebru. One of the first in Russia to master this area. In 2012, her first solo exhibition in St. Petersburg was already held. Accompanied the performances of such performers as Zara, Methodius Bujor, Anna Malysheva. She is a co-author and soloist of the project "Voices of the Subconscious" with the famous duduk player Argishty, she created the unique Crocus City Hall (Moscow). He is a co-author and regular participant in the shouflag of Vivaldi, as well as the author of the Classic and Van Gogh program, which are successfully held within the walls of the famous Annen Kirche. Recently, Olga took the post of Chairman of the Art Council of the Union of Masters of Ebru of Russia.     Artists: Olympic Symphony Orchestra   Conductor: Alexander Golikov   Artist: Olga Kaurova
Video:
Schedule:
There are no events.