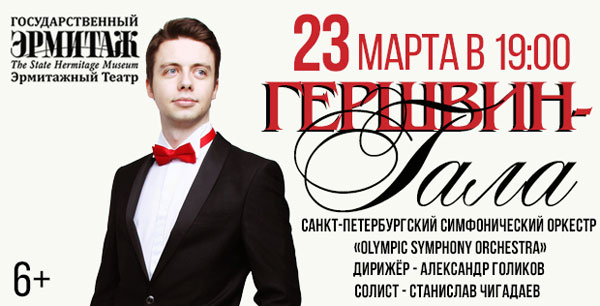 Duration:

02:00

Intermission:

1 intermission
Each viewer c 0 years old must purchase a ticket.
Free seating at events in the Hermitage Theater
Tickets WITHOUT SERVICE FEE!
George Gershwin is an American composer and pianist who composed music for many Broadway productions, was born during the heyday of jazz and masterfully combined all styles of music in his works. Oscar winner for the best song for the film, was awarded the Pulitzer Prize
In the first part
of the concert you will hear "Rhapsody in blues style" - this is one of the most famous works of the composer, which premiere was attended by Rachmaninov and Stravinsky, as well as "Three Piano Preludes" arranged by Stanislav Chigadaev. Stanislav is the leader of the Good Evening jazz trio, the team performs in the Small Hall of the Philharmonic Society, the Mariinsky Theater, the White Hall of the Polytechnic University, the Russian Museum. Stanislav Chigadayev is a student of many international competitions, collaborated with Andrea Bocelli (Helsinki, 2014) and Nigel Kennedy (Germany, 2016), Larisa Dolina, Vasily Gerello (Russia, 2016), Alena Petrovskaya (Russia, 2015). And also with conductors Fabio Mastrangelo, Alim Shakhmametyev, Igor Ponomarenko, Alexey Vasilyev.
In the second part
are arias from the opera Porgy and Bess. Delivered in 1935, the opera combines jazz improvisation, symphonic melodies and American folklore. The opera traveled with a big tour through the cities of America, but in Europe it was heard only after the end of the Second World War in 1945. In 1956, the opera Porgy and Bess was introduced to Moscow and Leningrad by a Negro troupe. The song "Summertime" performed by Ella Fitzgerald and Frank Sinatra for many years has become the hallmark of the opera. It is believed that by the number of different performances, the aria is ahead of the famous song Yesterday (the Beatles group). The opera entered the world music golden fund. Margarita Ivanova and Yaroslav Petryanik, soloists of the Academy of Young Singers of the Mariinsky Theater, will perform for you the best arias from Porgy and Bess by George Gershwin. Margarita Ivanova - soprano. Laureate of international competitions, in 2012 she graduated from the St. Petersburg Conservatory named after N.A. Rimsky-Korsakov. She performed on the stage of the Musical Comedy Theater. Since 2013, she has been a soloist with the Academy of Young Opera Singers of the Mariinsky Theater. Yaroslav Petryanik - baritone. Laureate of international competitions, in 2013 he graduated from the St. Petersburg Conservatory named after N.A. Rimsky-Korsakov.
Schedule:
There are no events.